The Ars Electronica festival
The beginning of September, for those who scrutinize societal evolutions that researchers or artists reveal in the analysis or the use of emerging technology occurs in Linz at Ars Electronica. This year, the Austrian festival focuses on error in order to consider an Art of Imperfection.
Emotions in presence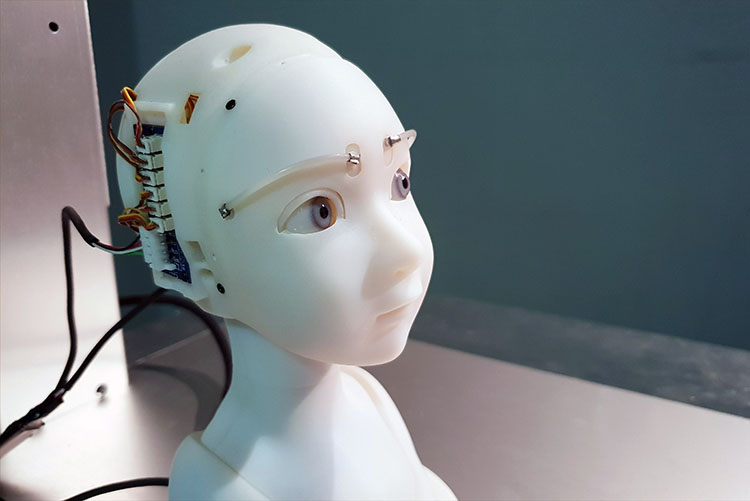 Takayuki Todo, SEER, 2018.
This year, a robotic head conceived by Takayuki Todo welcomes the audience of the Error exhibition, taking place in Postcity. Its name, SEER, stands for Simulative Emotional Expression Robot. Its size is reduced compared to that of a human. Electronic components emerge from its skull and its skin is of an extreme whiteness. Yet, it touches those who watch it: there is something human in the gestures that animate it. The movements of its head are sometimes hesitant while its gaze follows us. Also, there are the micro movements of its eyebrows, which are merely silicon rods and seem to escape from the control of a missing consciousness. A genuine range of emotions reinforces its presence. And, in the end, its tiny imperfections are what make it so close to us. As industry works on intelligence in order to obtain results - which are too often disappointing, if not anxiety-provoking - some artist-researchers are focusing on presence. By doing this, they become part of the tradition of artist-engineers with their automatons, whose extraordinary talents strengthen presence.
Give life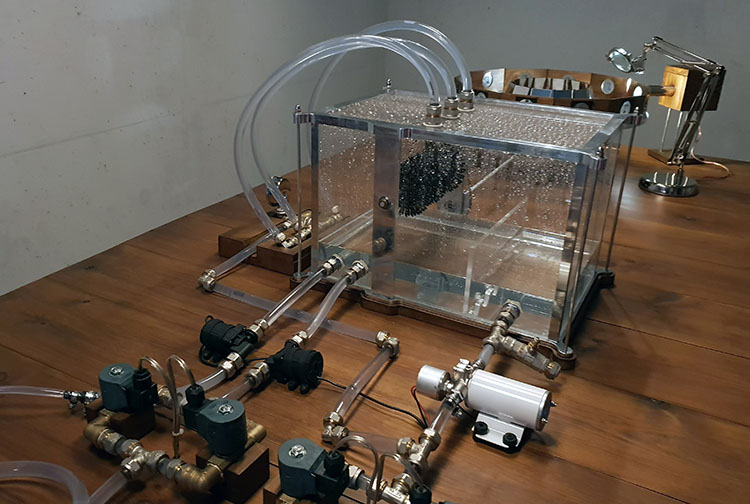 OPN Studio, Give My Creation…Life!, 2017.
Still within the Error exhibition, another installation evokes the world of inventors. The complexity of the installation Give My Creation… Life! by the OPN studio makes us wonder. And we understand that inserting the index finger in a pulse sensor activates it. The machine activates one by one its material components made of wood, copper, glass, plastic and which includes an artificial heart. At the end of a debauchery of technology and mechanisms a praxinoscope is activated, and it is similar to the one of its inventor in 1876, Émile Reynaud. The loop, which is projected, is of a relative imperfection due to its low quality, so it is not immediately legible. Nevertheless, we are able to recognize a juggler. Juggling, considering pre-cinema practices was very popular, possibly because it was particularly adapted to images that were set in motion onto short animation loops. Regarding the idea that we could, literally, "give life to a creation", although timeless, it now constitutes the first message of companies that put technology at the service of contemporary recreational use.
Humble miners
LarbitsSisters, BitSoil Popup Tax & Hack Campaign, 2018.
This year the LarbitsSisters received the Golden Nica in interactive art. Their installation is not familiar to us although we acknowledge that it is counting something, without knowing what. Actually it is about the extension, in the exhibition space, of the BitSoil Popup Tax & Hack Campaign exhibition that the artist duo carries out online. It aims to raise awareness on the value of our online actions. As time has passed, GAFA companies have made us workers. But we usually have no idea of the value of the resources that we generate for these international companies that monetize them. The website of the project allows us, among other things, to address the politicians or companies of the new business that take advantage of THE resource: data. It merely activates bots that will act for us on Twitter. This is how we generate data while interrogating those who participate in their monetization. In this new data rush that makes us humble miners without any salary, what is the exchange rate of our online chatting and who sets its value?
Of judgment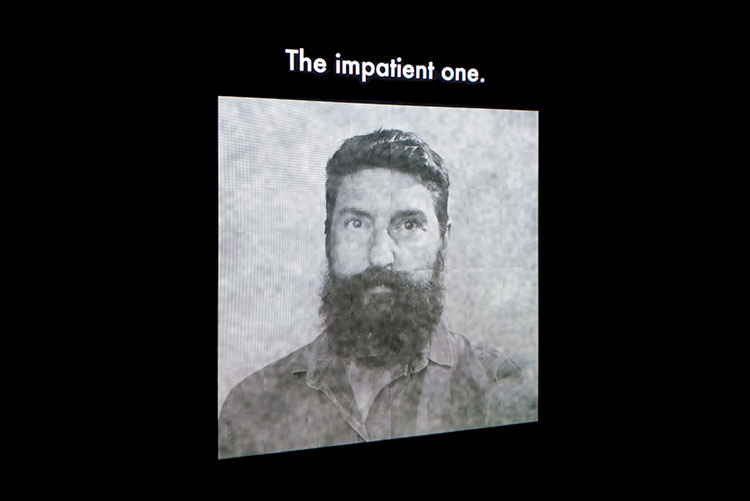 Mary Flanagan, [Help Me Know The Truth], 2016.
At the OK Centrum, we are able to devote ourselves to judgment with Mary Flanagan's [Help Me Know The Truth]. It all starts with a selfie that we take at the entry of the installation. Then, an application is set to produce some versions of it by diversely injecting noise in the pictures. Finally, an interface presents a range of portraits by associating words to them. That is how we get caught up in a game, imagining behaviors or personalities according to the shapes of their faces. Who never "played" this game, in public transportation for example? Maybe without knowing that this pseudo-science called physiognomy was already practiced back in Antiquity - long before a scientific racism emerged, in the 19th century, to reach its apex during the World War Two. It is nevertheless reassuring to think that no machine will ever be able to make such judgments. However, what is less reassuring is that we could give it information, as we do in an exhibition, with this capacity that we have to judge others, without even knowing them. The artistic context, at Ars Electronica, allows us to do it without even feeling guilty.
Total art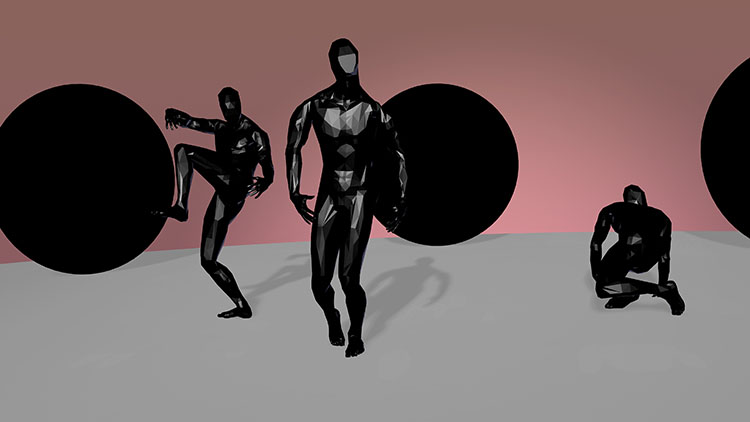 Richi Owaki, The Other in You, 2017.
In the basement of the Ars Electronica Center, we experience biotechnology, rapid prototyping, and virtual reality in their relation to creation. Where we learn, for example, that the invention of stereoscopy by Charles Wheatstone is contemporary to that of photography. Although virtual reality experiences, such as Richi Owaki's The Other in You, are offered here. It is interesting to mention that it is today, within the performing art world, that the experiential cultures are highlighted. Probably because the question of the body is essential, as it is for the Japanese artist who encourages us to reconsider this other self that is inside us, as we temporarily leave a body that is sometimes a little too heavy. The sphere, which we are in contact with, is the link between the physical space of the art center and the virtual space of the creation. Inside of it, dancers evolve close to our bodies, which have lost all mass and all weight. The experience is liberating and we are on the very stage, which is extended by image in the real world so the choreography is a total work of art. As Black Mountain College artists already considered it during the 1950s: at the crossroads of visual and performing art.
A cinema of apparatus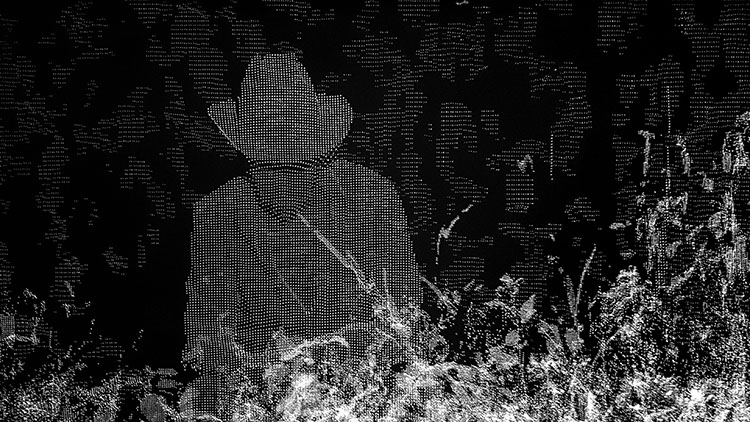 Mathilde Lavenne, Tropics, 2017.
Cinema is also made of experimentations, where even still image, as in Chris Marker's La Jetée (1962), enable the mixing of temporalities. Yet, the Golden Nica of Computer Animation was given to a movie, which was not shot, but scanned. In 2017, Mathilde Lavenne went to Mexico to shoot a documentary with particular aesthetics. Because Tropics is made of sequences where virtual cameras, in the dark, explore a point cloud. Instead of shooting them, the artist captured atmospheres while the voice-overs are made of testimonials. It is about river flooding, which frequently brings back fragments of stories of another time. In this movie, the only movements are those of the virtual cameras, which allow Mathilde Lavenne to revisit some scenes, which were initially shot with a 3D scanner, similar to the one of archaeologists. Here, the memory of Jicaltepec farmers is mixed with that of the water of the Filobobos River so a cinema of apparatus emerges. From the initial point, a multitude of views emerge for a cinematographic practice, which is also the one of a wandering eye, the one of the artist in the space of the machine.
Storytelling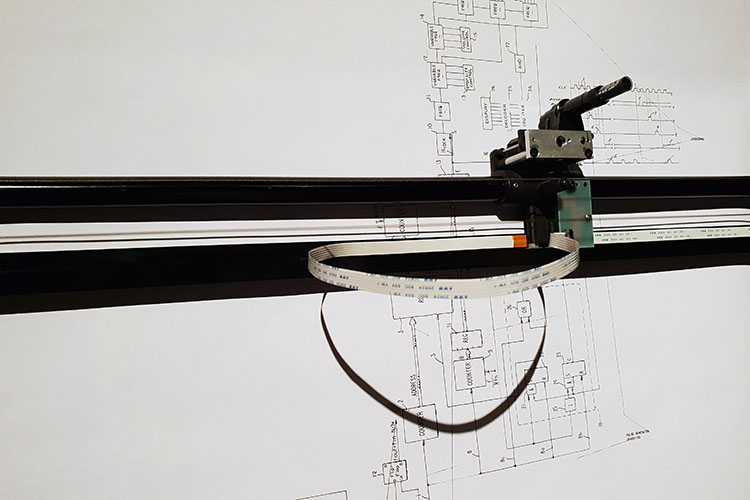 Julius von Bismarck & Benjamin Maus, Perpetual Storytelling Apparatus, 2008.
Since last year, Ars Electronica has been presenting some galleries among companies or associations that are related to the art market. At the Colección BEEP booth we discover the Perpetual Storytelling Apparatus installation that Julius von Bismarck created in collaboration with Benjamin Maus in 2008 - a time where Julius von Bismarck was a regular in this festival, before his work was more visible in the contemporary art sphere. We remember, among other things, his performance during the Unlimited exhibition in Art Basel 2015. But let us get back into the Gallery Spaces, located in Postcity, where an Apparatus tells us the story of the sum of many inventions. A text - we know nothing of its nature - is converted into a never ending accumulation of technical and patent drawings that come from data bases protecting countless inventions. This installation generating the history of its vacuity could also, in such a context, send us back to cartels of which storytelling ends up weakening creations. Because there are many artworks, if they were to be as autonomous as we pretend they are, that would do without verbiage to the glory of innovative technology. The Perpetual Storytelling Apparatus cartel, for the record, does not hold any explanation.
Written in the stone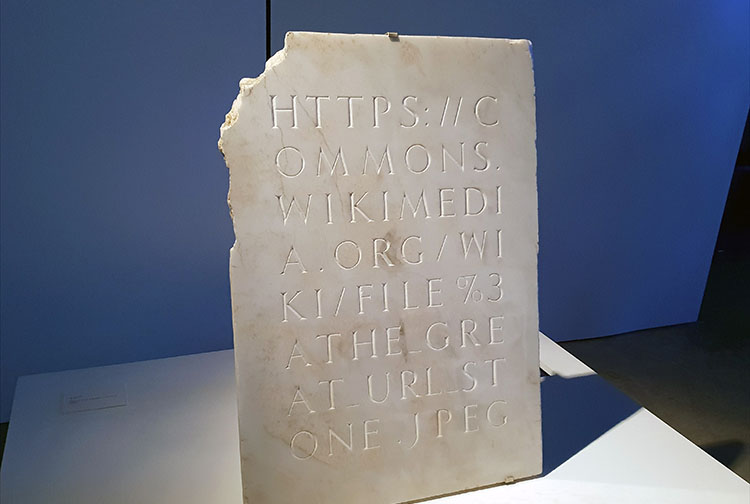 Egor Kraft, URL Stone, 2015.
We sometimes say - wrongly if we consider the inscriptions that the civilizations of Antiquity transmitted to us - that "nothing is written in stone". But what would remain of our world if the planet's servers would simultaneously cease to operate? It is a question that we may ask on the .ART booth presenting a stone stele where the address documenting Egor Kraft's URL Stone is engraved. Fortunately, if it were to disappear, its image file would still remain on Wikimedia's servers. Here, we are actually talking about a conceptual artwork, which is in line with Joseph Kosuth's research focusing on objects through their presentations, representations, and descriptions. But here, it is also a matter of materialization of ideas or contents extracted from a data flow, as artists from the Post Internet trend like to do it. And it is good to know that there are collectors to acquire such pieces because they document our reckless desire for materiality in this digital world we live in. Finally, we note that the art market, in its close relationship with institutions, also greatly contributes to preserving artworks when they integrate private or public collections.