Another perspective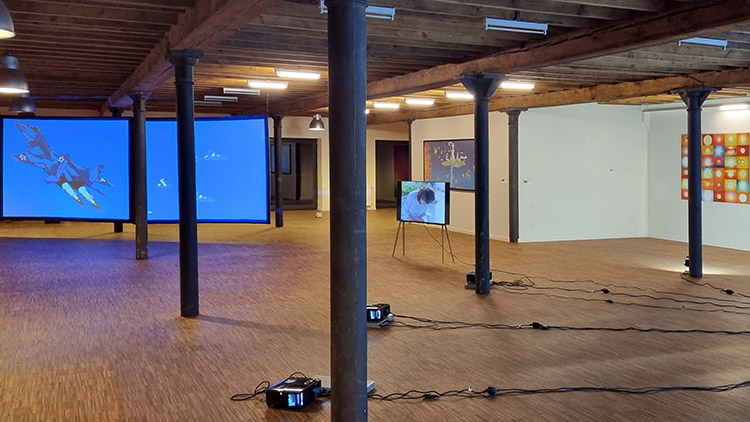 Another perspective, [Senne], Brussels, Avril 20 to May 7, 2023.
With the successive arrival of personal computers and the Internet, artists have begun to deconstruct systems of representation, thus continuing what the cubist and abstract painters of the beginning of the last century had initiated. But haven't we all been affected by this change in perspective? To the point of having a privileged relationship with artworks that are the result of digital practices. Add to this the fact that such practices or uses have become so popular that they shift the lines between artists and non-artists. In its participatory version, the Internet is a perfect illustration of this decidedly collective approach to creation in this era of widespread re-appropriation of content that [Senne] Brussels puts into perspective.
On the history of art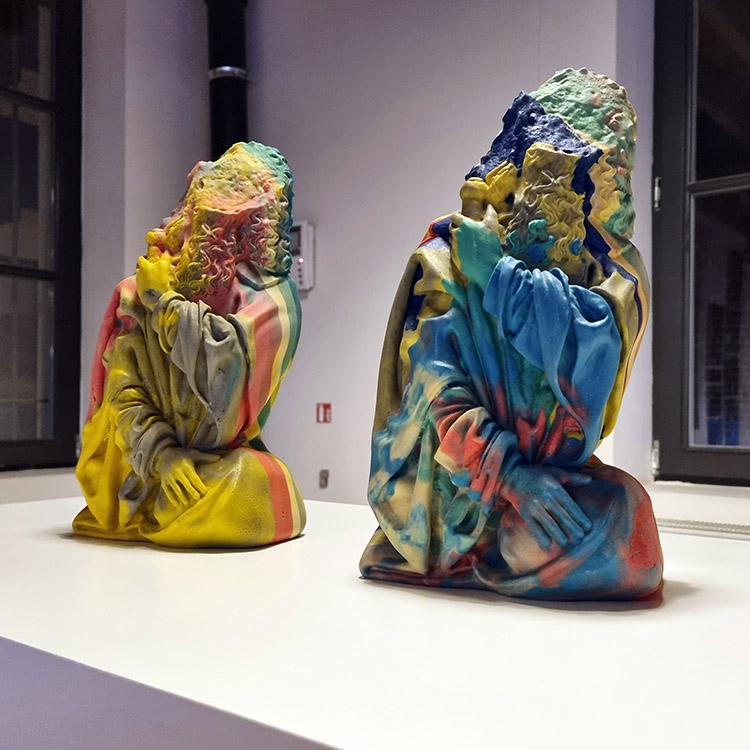 Oliver Laric, Versions (OLV02 & OLV06), 2009.
Certain commentators in the art world have often reproached digital artworks for being endlessly duplicable. While recalling that we only know Roman copies of Greek statuary, Oliver Laric hypothesizes that Versions of the same creation do not, for all that, lose all their aura. He even goes so far as to evoke memes, which are multiplying on the Internet in their myriad interpretations, expressing our relationship to images in an era of their extreme reproducibility. The artist's sculptures materialize his thoughts because, although they are precisely the copies of original works, they are no less singular for their strange materials, textures, and colors.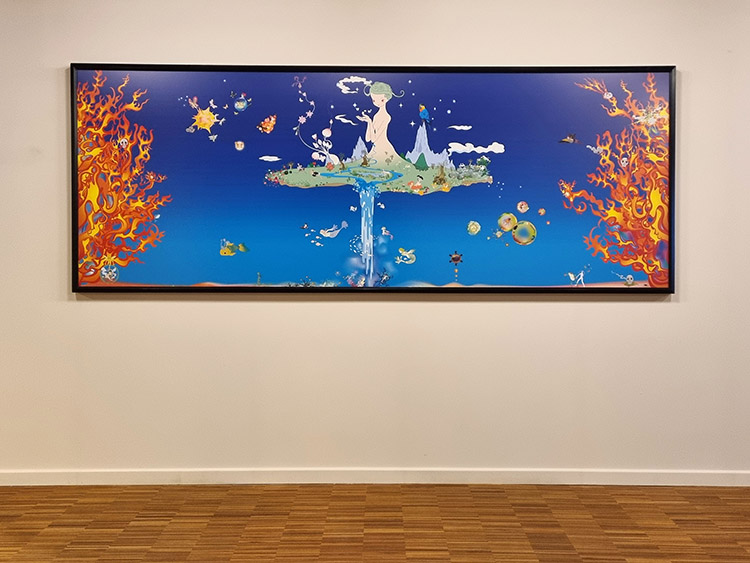 Chiho Aoshima, Paradise, 2001.
Chiho Aoshima's aesthetic is also made up of borrowings from traditional painting as well as from popular cultures. Her colorful universes appear to us like daydreams, freed of any depth. Our eyes literally glide over the surface of Paradise. While some visual elements, on the periphery, always bring us back to the face of this young woman with round eyes, a recurring character in the artist's representations. It is interesting to note that her tools and technical processes are like those used in the graphic industry. This, from a stylistic point of view, contributes to breaking down the boundaries between creative practices and, by extension, to eradicating any idea of a hierarchy of genres in art.
Collage and appropriation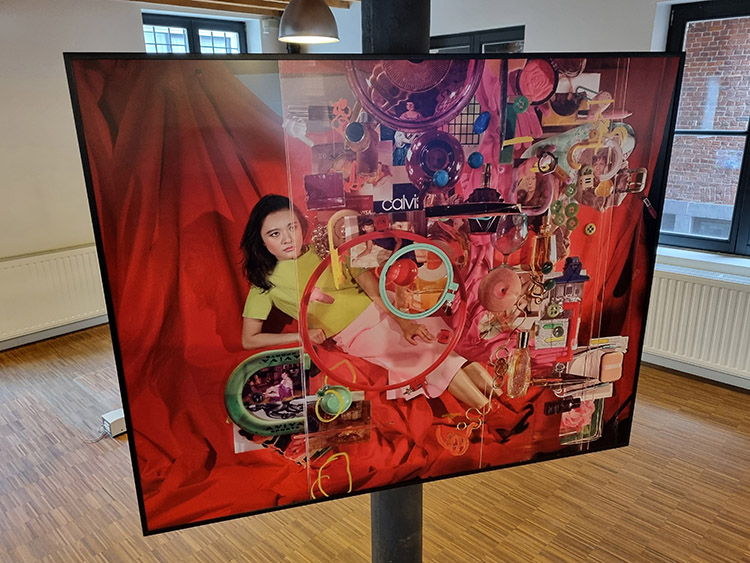 Sara Cwynar, Tracy (Calvin), 2017.
Sara Cwynar makes no secret of her training in graphic design, although she acknowledges the constraints of the field from which she has extracted herself by turning to art via photography. In her practice of assemblage, she invokes the science of the image known as iconology - one thinks here of the art historian Aby Warburg's Mnemosyne Atlas - while affirming her attachment to objects that are described as kitsch. For years, the artist photographed her friend Tracy in similar poses, but in ever-changing settings. The accumulation of objects and images with which the model is associated does not fail to evoke our society of spectacle and abundance, which was already beginning to be debated in the 1970s.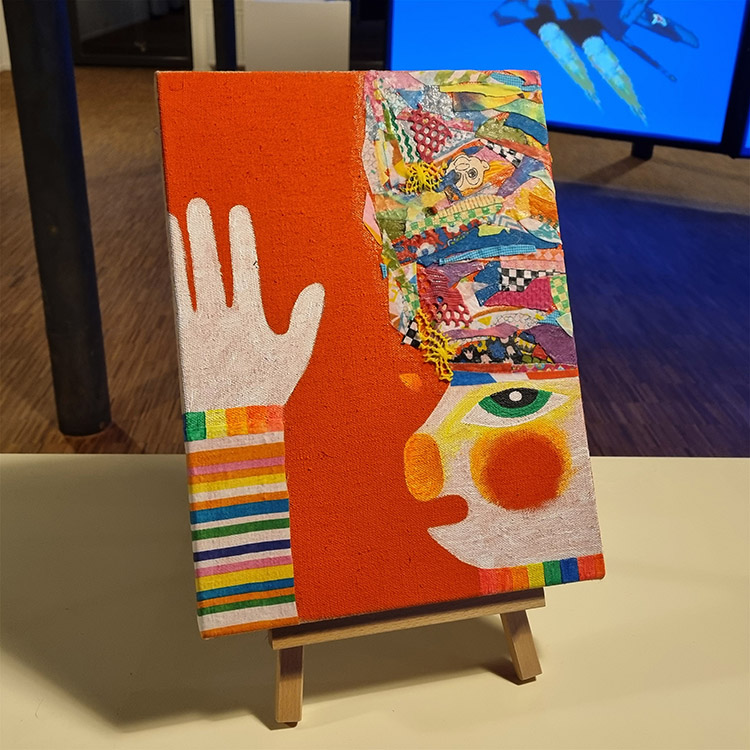 Jessica Ciocci, Orange Pig Hello, 2006.
Jessica Ciocci's creations are to be considered as gateways to a collective sphere with an aesthetic of excess. She is one of the founding members of the Paper Rad collective who, in the 2000s, made great use of saturated nuances of red, green, and blue, in reference to the consoles and screens of their childhood. As for the Orange Pig Hello collage, it reflects the TV shows for kids that millennials watched. The creations of the members of Paper Rad participate in a form of endless remixing of the popular culture of their childhood, as if they were prolonging it by reproducing it endlessly.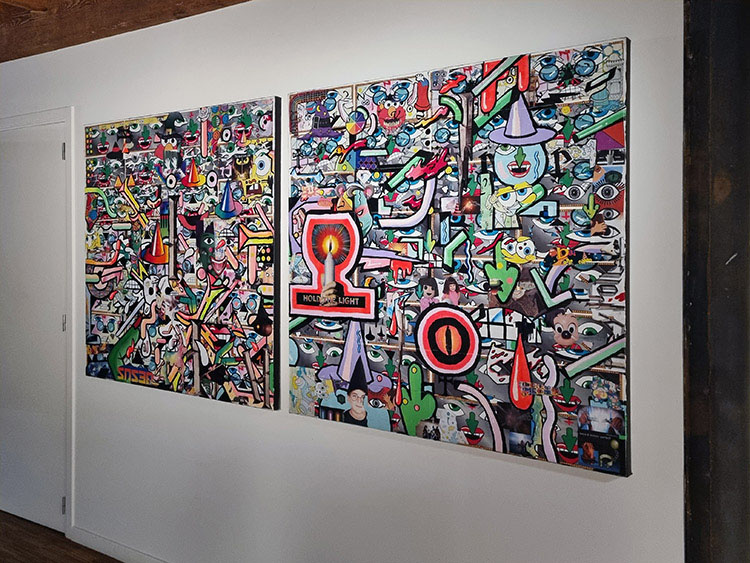 Jacob Ciocci, Am I Evil? (trapped and frozen forever n°3), 2011.
The series Am I Evil? by Jacob Ciocci, another founding member of Paper Rad, is entirely representative of the collective's aesthetic, which combines the practice of collage with the notion of excess in both plane and duration. But it also highlights the strange behaviors that the world is full of, and that the Internet reveals in its participative version. When the devil is the other, that is, the one who is different. However singular we may be, the global village allows us to recognize each other and, in the end, to group us together. The famous YouTube slogan 'Broadcast Yourself' thus acts as a social link for those who, separately, could not claim to belong to any community.
Reactivating abstraction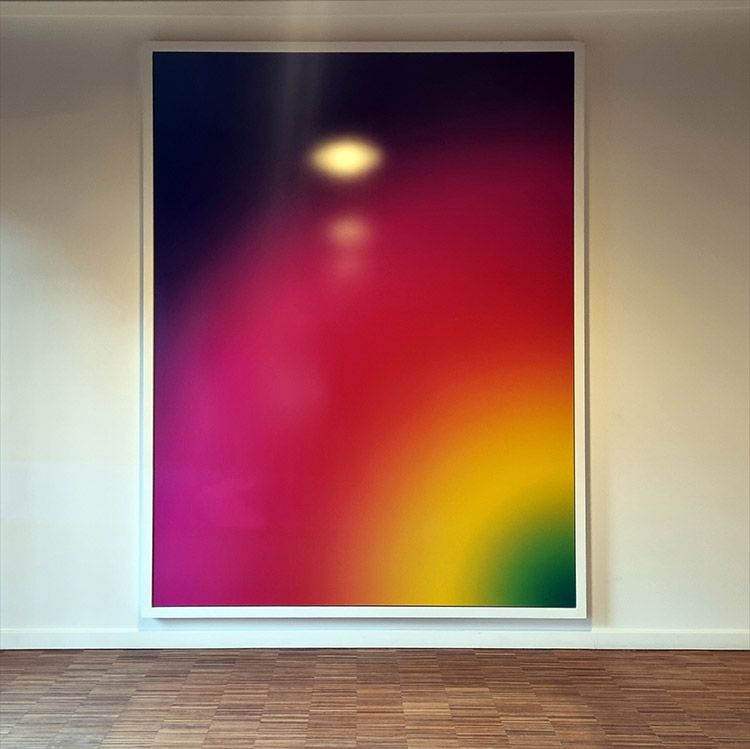 Cory Arcangel, Photoshop CS, 2009.
Cory Arcangel has collaborated with Paper Rad, in particular when he was creatively hacking Nintendo cartridges. He has worked with many tools and services, including the Photoshop CS application to achieve color gradients. The titles of the prints in this series are to be considered as algorithms to be followed to the letter for those who wish to obtain these same images 'at home'. It is therefore with the most popular computer graphic software that he allows everyone to make copies by performing a sequence of actions of an extreme banality: 'click', 'drag', 'release'. The colors are Pop, but it is more Ready Made that comes to mind, considering that the gradients were indeed there in the CS version of the Photoshop application, but that it was a mater of freeing them to make an artwork.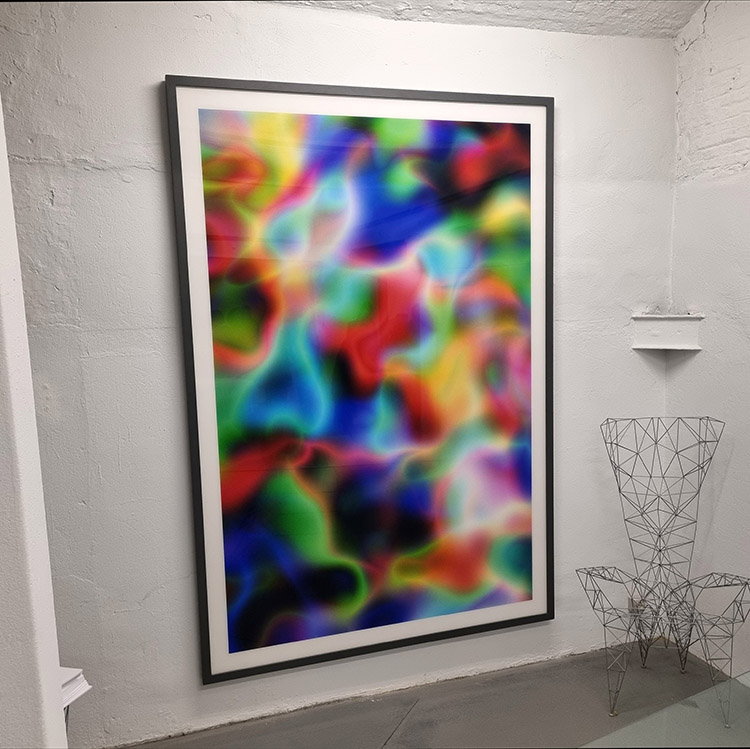 Thomas Ruff, Substrat 14 I, 2003.
With the arrival of digital technology and the Internet in his studio, Thomas Ruff distanced himself from the camera. He did not distance himself from photography but associated it with the pictorial. With Substrat, he confronts the abstraction that emerges from the excess of colored images that he unifies through blurring. In so doing, he adds a form of depth to the images that merge into the plane. With such manipulations aimed at deconstructing images to obtain only one, he replaces the darkroom with the interface with which he tests the image-material. A process that he repeats tirelessly to produce as many infinite variations as possible. For if there is one approach he has never denied, it is that of exhausting subjects through series.
Testing technology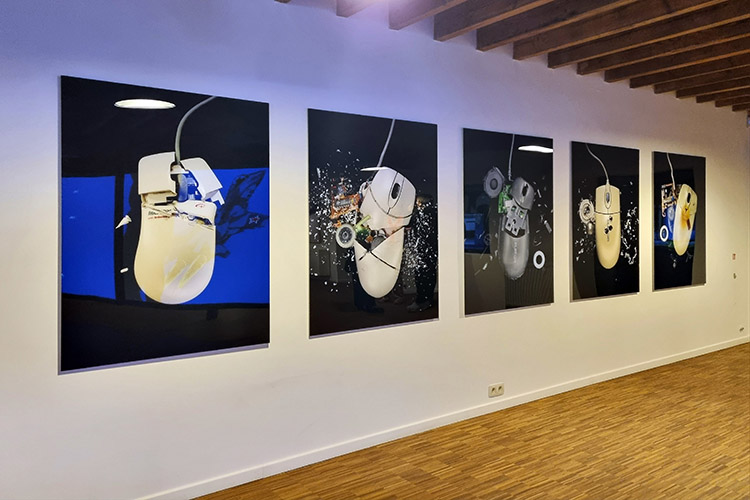 Exonemo, Danmatsu Mouse, 2007.
Exonemo mistreats computer mice to gain the most complete understanding of them, as Nam June Paik once did with cathode ray tube monitors. The duo goes so far as to record the agonies of mouse cursors by subjecting them to tortures reminiscent of the crash tests that companies put their products through. On the Internet, the duo's video sequences have joined the ranks of YouTubers who compete creatively in destroying their electronic devices, usually without any affect. In the case of Danmatsu Mouse, it is the video footage of the last moments of technical objects that we see, when the final movements of their avatars - the cursors - appear to us as expressions of their own agony.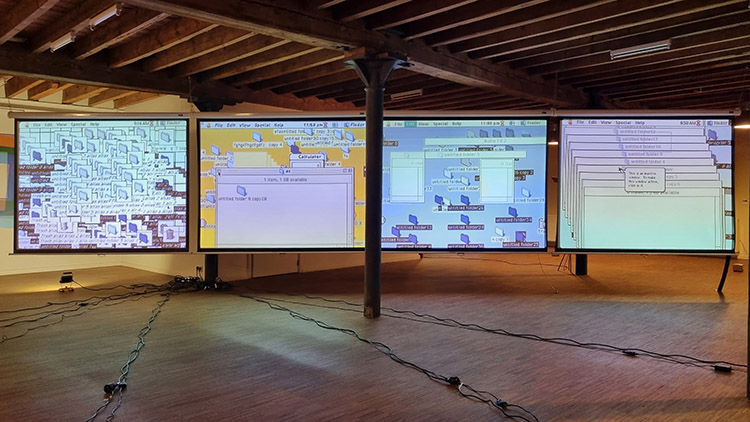 JODI, My%Desktop, 2003.
Who hasn't experienced a few anguished moments before realizing that it was too late to cancel a command that would have taken an unnecessary amount of time to execute? The JODI members coordinate these scares during the My%Desktop performances they record, documenting what IT services in overly organized companies would call bad practices. In this way, the two artists attempt to push the limits of their operating system's desktop applications - as with Mac OS 9, which no one uses anymore - and participate in a form of media archaeology while delivering to us what is increasingly intimate, i.e., the desktops of their computers. Although My%Desktop first circulated within the digital art community, it is now considered a masterpiece by the Museum of Modern Art in New York, which published it in the latest edition of its MoMA Highlights.
Camera gaze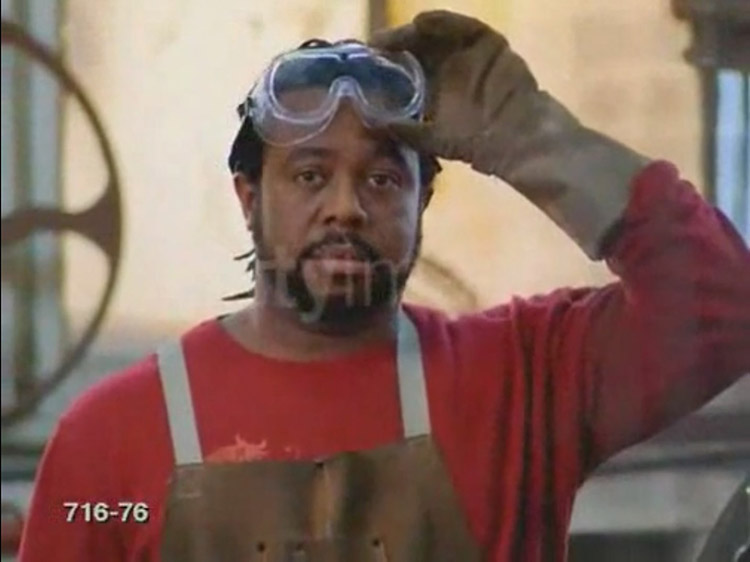 Guthrie Lonergan, Artist looking at camera, 2006.
It is the gaze of the camera that Guthrie Lonergan tackles. But let's forget the connivance that directors like Stanley Kubrick or Jean-Luc Godard were able to create between their characters and the audience. For the Artist looking at camera sequence consists only of artists, or craftsmen, interpreting their own satisfaction at a job well done. The still or moving images gathered by professional platforms, such as Getty Images, from which all the samples come, must satisfy their clients, often compagnies, who in turn must satisfy their own clients who want to promote their products or services. The real common factor in all these sequences, which end up as one, is the total absence of doubt among the protagonists!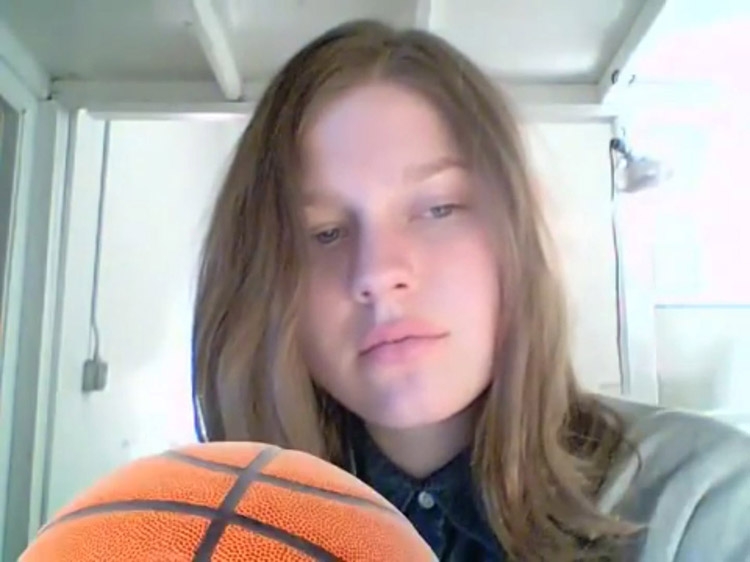 Petra Cortright, VVEBCAM, 2007.
Petra Cortright ignores her webcam to focus on the real-time effects that her camera application offers her. She has the look of a young woman of her generation, with the difference that she is still an art student at the time of recording. Over time, this video has become emblematic of the reactivation of self-shooting - a practice initiated in the late 1960s by artists discovering the creative potential of the iconic Sony Portapak portable camera - by Generation Y artists who have in turn discovered the creative possibilities of YouTube. So much so that the MoMA has included a VVEBCAM edition in its collection.
An aesthetic of extraction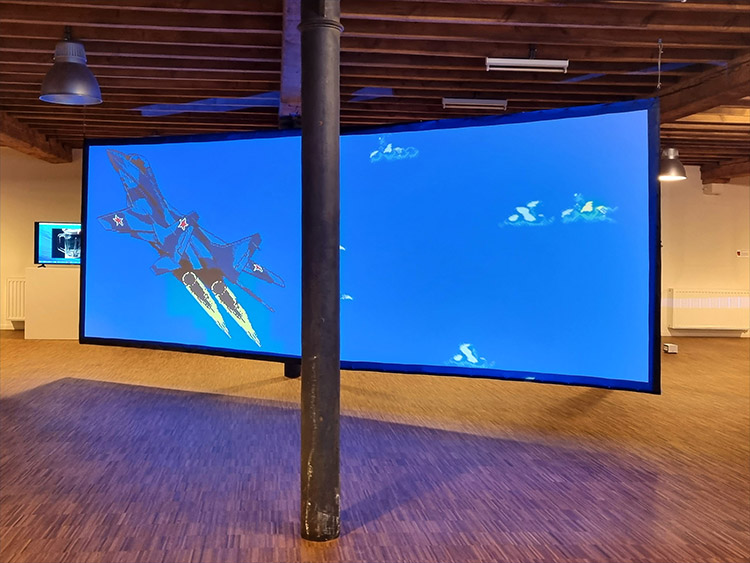 Cory Arcangel, MIG 29. Soviet Fighter Plane and Clouds, 2005.
During his time with Paper Rad, Cory Arcangel literally deconstructed video games such as Super Mario, F-1 Race and MiG-29 by Nintendo. His practice was then articulated around the suppression to keep the essential. In the case of MIG 29. Soviet Fighter Plane and Clouds, he preserved only a few frames of the plane and the sky. Once again, the work was there, slumbering, like a horse waiting in a block of marble for the sculptor to release it. Thus modified, the game remains recognizable, although it has lost all its gameplay. Elevated to the status of a work of art, we contemplate it, and it is now up to us to tell the story. It is impossible not to think of Roy Lichtenstein, who also extracted masterpieces, but from comic books.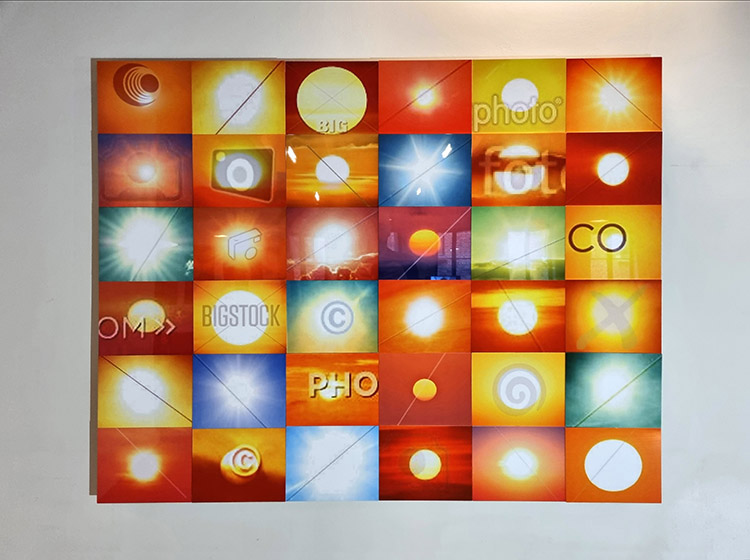 Penelope Umbrico, 36 copyrighted Suns / Screengrabs, 2009-2012.
Penelope Umbrico takes her samples from platforms dedicated to photography. With 36 copyrighted Suns/Screengrabs, the artist confronts us with multiple suns. In doing so, she adopts the curator's posture. And in these images, details catch our attention. These have copyrights watermarked in the image, like a desperate attempt to legally protect sunsets that, let's face it, all look the same. The Internet is thus made up of content that we would like to share with the whole world while at the same time preserving it for ourselves. When the sun, in this age of space privatisation, is fortunately still considered a common good!
The circulation of images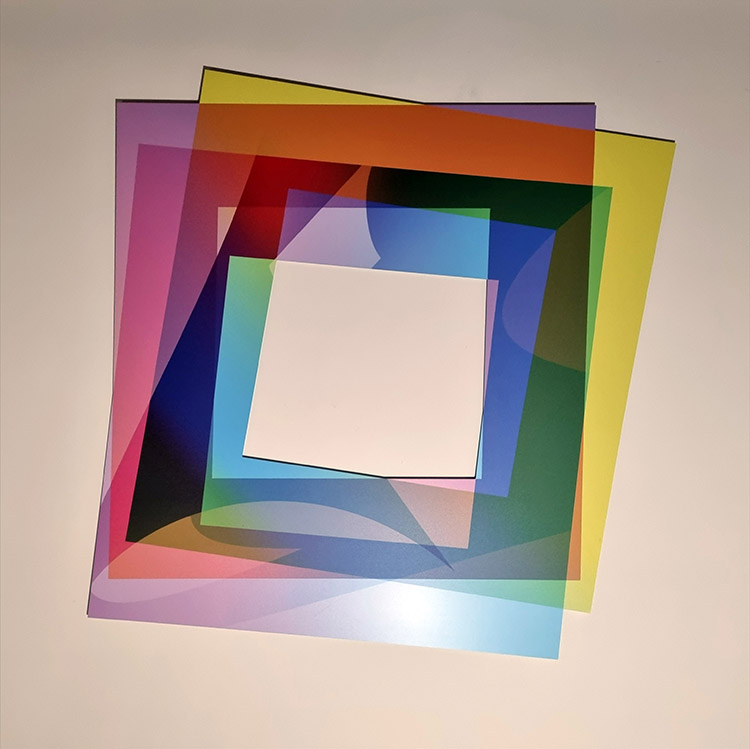 Artie Vierkant, Image objects Friday 7 june 2013 4.23pm, 2013.
Paradoxically, it is in this age of extreme mistrust of images that we generally only have access to real situations through them. With his Image objects, Artie Vierkant reflects on this paradox by altering the photographs of his exhibited creations before they are released. The circulation of reworked images is therefore an integral part of his artistic approach. From the shots among other alterations to the reception of the public who, not having visited the exhibition venue, do not know exactly what they are observing. Artistic creation and online mediation become one in this series where spaces, gestures and temporalities are intertwined.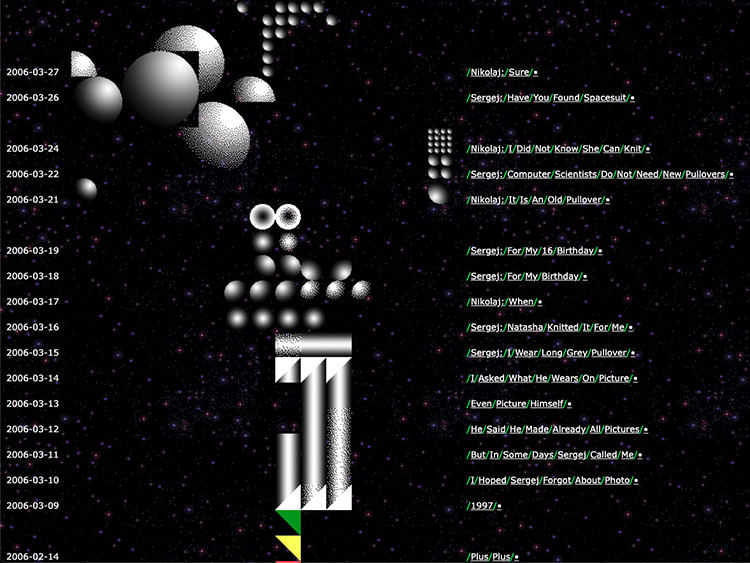 Olia Lialina & Dragan Espenschied, Frozen Niki Fragments, 2006-2008.
As exhibition curators or art collectors, we want to believe artists even in their most implausible stories. As we do when confronted with the prints of the Frozen Niki series by Olia Lialina & Dragan Espenschied. These prints archive the content of Nikolaj Osinin's personal blog, which, according to the two artists, is one of the members of an intergalactic journey to the distant galaxies of the Magellanic Clouds. Cryogenically frozen for the occasion, his brain activity is recorded by a server at the Baikonur Cosmodrome, as it is said on his blog. Is this not an illustration of the tremendous potential of images, both to circulate and to make us travel in this third industrial revolution that artists with adventurous practices know how to document so well?